Tupperware Brands Corp.'s stock skyrocketed Monday, and has more than tripled amid a four-day win streak, as the shares of the beleaguered maker of iconic food-storage containers continued their meteoric rally.
The stock soared 44.5% in midday trading, to put it on track for the highest close since Feb. 3, 2023, and has rocketed 234.6% amid a four-day win streak.
Monday's rally adds to the stock's 242.2% rally last week, which was the biggest one-week gain since it went public in May 1996.
So far in July, it has blasted 456.4% higher, which would also be a monthly record. The previous record was the 224.8% gain seen in July 2020.
Related: How 'left-for-dead' Tupperware became a buzzy trading play
The stock's historic rally kicked off after closing at a record low of 62 cents on July 18. The daily gains have been highlighted by the record 75.6% jump on July 24, despite no news being reported.
Since the record low close, the stock has soared more than 7-fold (up 617.7%).
Related: Tupperware's market cap almost triples as stock continues to skyrocket
Amid its surging share price, the company's market capitalization has reached $196.96 million. On July 7, when Tupperware said that it had entered a waiver agreement with some of its creditors, the company's market cap hovered around $33 million.
Tupperware's recent trading activity is reminiscent of spikes in other names also recently seen as "left for dead," as Samantha LaDuc, founder of LaDucTrading.com, put it to MarketWatch last week.
The latest exchange data showed that short interest in Tupperware's stock, or bearish bets made, had climbed to a three-year high of 9.69 million shares, which 27% of the public float, or shares readily available for the public to trade. Read more about short selling and how it works.
In comparison with a stock that some say has been subject to a rally induced by bearish investors covering their short bets, often referred to as a "short squeeze," Sirius XM Holdings Inc.'s
SIRI,
+0.98%
short interest represented 30.8% of its public float.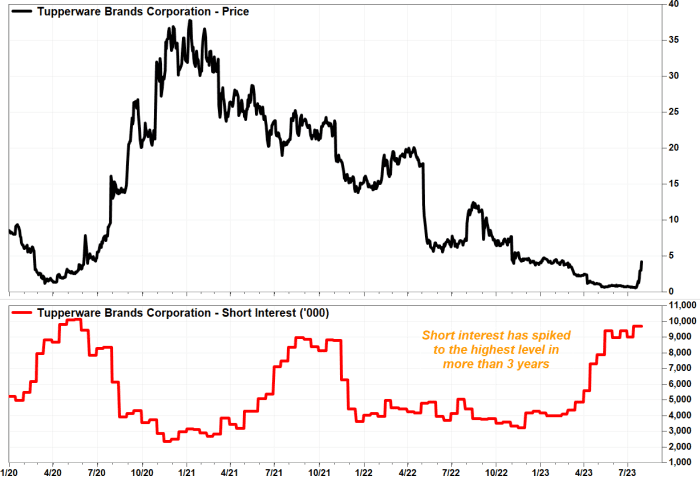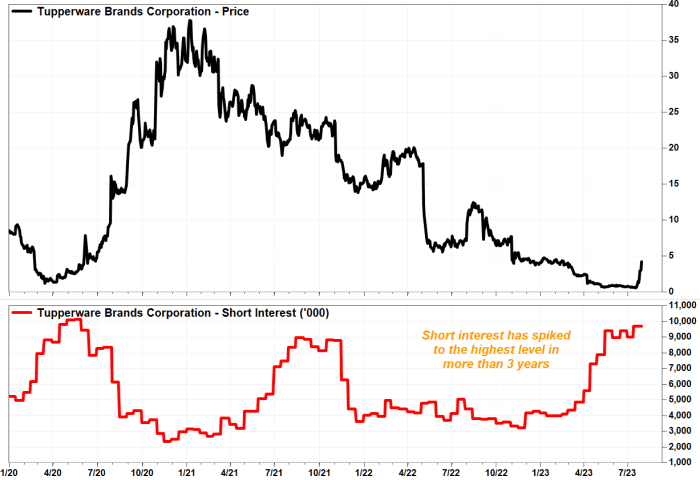 In its preliminary full-year results reported in March, Tupperware sported an 18% sales decline compared with the prior year. Back then, Tupperware Chief Financial Officer Mariela Matute said in a statement that 2023 was expected to be a transition year for the company as it worked to stabilize its business and get on better financial footing.
Related: Tupperware's stock craters after food-storage company warns it may go bust
The following month, Tupperware issued a going-concern warning, essentially cautioning that it could go bust. Tupperware also announced the hiring of financial advisers to help it navigate its near-term challenges.
The company is projected to release its next quarterly report later this week, according to FactSet.
Emily Bary, Claudia Assis and Tomi Kilgore contributed.