The 2024 BMW 8 Series lineup consists of coupe, convertible, and Gran Coupe styles, all adorned with luxury features, fantastic engines, and tons of prestige. Pricing starts at $89,400.
Grand tourer, trans-continental express, boulevard cruiser… the 8 Series is all of these things. It's dashing in both senses of the word — stylish and fast. It's also supremely comfortable as well as superlatively composed. The 8 Series can be indulgent and intense, often at the same time. These are cars for the driver and that one special passenger. Rear space is not an 8 Series strong point, although the 4-door Gran Coupe is more accommodating.
2024 BMW 8 Series pricing
The 2024 BMW 8 Series starts at $89,400. This is for either the regular 2-door Coupe or the 4-door Gran Coupe with the 840i powertrain. Coupes and Gran Coupes have the same starting prices with the other engines as well. The most affordable 8 Series Convertible starts at almost $100K. These 840i models have rear-wheel drive as standard, with all-wheel drive available as a $3,000 option.
At the pricier end, we configured an M8 Competition Convertible on BMW's
BMW,
+0.22%
retail site and added enough options to reach almost $175K. Although Alpina is an independent tuner creating more-exclusive-than-M versions of BMWs, they can still be ordered through BMW dealers and have the same factory warranty.
| | |
| --- | --- |
| 840i Coupe/Gran Coupe | $89,400 |
| 840i Convertible | $99,000 |
| M850i xDrive Coupe/Gran Coupe | $104,700 |
| M850i xDrive Convertible | $114,300 |
| M8 Competition Coupe/Gran Coupe | $136,800 |
| M8 Competition Convertible | $146,600 |
| Alpina B8 xDrive Gran Coupe | $147,100 |
These are the manufacturer's suggested retail prices and do not include the $995 factory-to-dealer delivery fee (destination charge).
For comparison, the Lexus LC is priced from about the mid-90s. A couple of generations ago, the Porsche 911 might have been considered too small and insufficiently plush to compete in this automotive sphere, but it's a serious contender now — starting at around $115K. The opulent Mercedes-Benz SL has a pedigree that the 8 Series cannot match, but a starting price of around $140K. Or go even more exotic with an Aston Martin Vantage from about $145K.
Alternatives to the Gran Coupe models include the Mercedes-AMG GT 4-door (starting in the $100K region) or even the Porsche Panamera (from about $92K).
Before buying a new 8 Series luxury coupe or convertible, check the Kelley Blue Book Fair Purchase Price to know what you should be paying. Resale values may not be so important at this level, but the Lexus LC and Porsche Panamera tend to do better than the 8 Series in this respect.
Don't miss: Sustainability and good range make the all-electric 2023 BMW iX appealing to those who can afford it
What's new for 2024
There are no significant changes to the 8 Series this year. Buyers interested in the convertible or regular coupe models might want to take the plunge now, as there have been rumblings that a future 8 Series range may consist of Gran Coupe variants only.
Driving the 2024 BMW 8 Series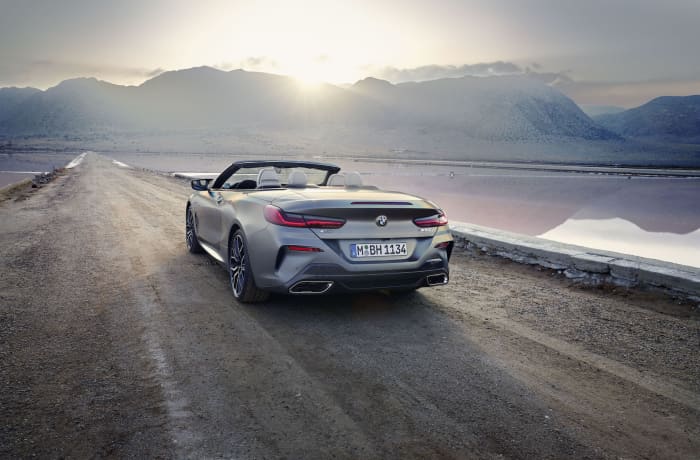 The 8 Series lineup begins with a fine engine that could easily be as muscular as most buyers will ever want. It's a smooth 335-horsepower turbocharged 6-cylinder unit capable of propelling the 840i from standstill to 60 mph in a wonderfully entertaining 4.7 seconds.
Things get faster and more powerful from there. Naturally, the V8s in the rest of the range all deliver breathtaking driving experiences accompanied by thrilling exhaust notes.
For a large car of substantial weight, BMW has still managed to make the 8 Series enjoyable to drive. We've found it to be comfortable and civilized at low speeds, yet excitingly responsive to more eager throttle and steering inputs. Extra agility and maneuverability comes courtesy of the optional rear-wheel steering feature.
BMW's M cars are rightly renowned for their power and poise, as are the Alpina versions, and these 8 Series variants follow their scripts beautifully.
Also see: The new 2024 Lexus GX is updated with more power, a bold exterior and a rugged new off-road model
Well-appointed interior
Even the most affordable new 8 Series comes with real leather upholstery, and not just for the seats, but also the armrests (which are heated) and covering the dashboard. This is an indication of how plush and well-appointed the 8 Series is in general. Other standard details include a power-adjustable steering column, soft-closing doors, ambient lighting, and navigation with over-the-air updates.
The front seats provide plenty of long-distance comfort. In the regular coupe and the convertible, rear accommodations are not so lavish. But they're not meant to be — this is an 8 Series, not a large 7 Series sedan. However, the 4-door Gran Coupe comes with a tolerable 36.6 inches of rear legroom, about seven inches more than the coupe. Rear headroom is still a bit tight, though.
No one buys an 8 Series for the trunk space, but there's room for two sets of golf clubs in the convertible's caboose, plus a couple of weekend bags either in the trunk and/or on the back seats. The coupe and Gran Coupe have more luggage space.
Three body styles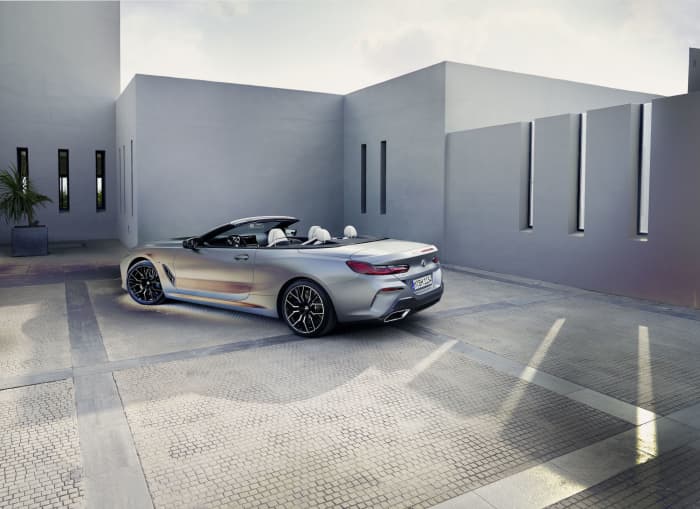 The 8 Series shares a platform with the 7 Series large luxury sedan, so it's bigger than many sports cars. The size and design give the 8 Series an exceptional presence. More in the tradition of a grand tourer, the 8 Series offers the choice of a regular 2-door coupe, a convertible with a power-operated fabric roof, or a Gran Coupe with four doors which still looks sleeker than the 7 Series. Buyers considering the awesome Alpina B8 should know that it comes solely as a Gran Coupe.
Also see: The 2024 BMW i4 review: The electric compact luxury sedan has all the cool tech and driving poise of every BMW
Our favorite features and tech
Full-color head-up display
Projecting vital information onto the windshield directly in front of the driver, this feature is often found on options lists, but it's standard in the 2024 8 Series.
Live Cockpit Professional
Otherwise known as a digital instrument cluster, it can be configured to the driver's liking and is standard in every new 8 Series.
Harman Kardon surround-sound system
Another item typically offered as an option, this 16-speaker/464-watt setup is standard. It's great, although true devotees of timbre and thunder may want to consider the next offering.
Bowers & Wilkins audio
Sending 1,400 watts of audible gloriousness through 16 speakers, this optional B&W surround-sound system resonates with clarity and detail.
Glass shift lever
It's a bit of cosmetic frivolity, but this option is definitely a departure from the usual.
M Driver's package
Available with the M8 Competition, this is a day's instruction in high-speed driving at a BMW Performance Center.
Engine and transmission
Six cylinders or eight, what a great decision to ponder. The 840i models have a turbocharged 3.0-liter 6-cylinder engine developing a perfectly fine 335 horsepower and 369 lb-ft of torque. These cars have rear-wheel drive (RWD) as standard. All-wheel drive (AWD) is known as xDrive in BMW-ville and is optional with this 6-cylinder engine, or standard across the rest of the range.
Beyond this point, we enter a world of excess. The M850i xDrive bolts two turbochargers to a 4.4-liter V8 to achieve 523 horsepower and 553 lb-ft of torque. This same engine configuration is in the M8 models as well as the Alpina B8 Gran Coupe, only boosted to 617 horsepower (same torque) in the former, or 612 horses and 590 lb-ft of torque in the latter.
Read next: The 10 best new sports cars
All versions of the 2024 8 Series have an 8-speed automatic transmission. Premium gasoline is required throughout. Neither body styles nor the number of driven wheels have an effect on EPA fuel economy figures.
840i (RWD & AWD)
3.0-liter turbocharged inline 6-cylinder engine
335 horsepower @ 5,000-6,500 rpm
369 lb-ft of torque @ 1,600-4,500 rpm
EPA combined fuel economy: 24 mpg (21 city, 29 highway)
M850i xDrive
4.4-liter twin-turbocharged V8
523 horsepower @ 5,500-6,000 rpm
553 lb-ft of torque @ 1,800-4,600 rpm
EPA combined fuel economy: 19 mpg (17 city, 24 highway)
M8 Competition
4.4-liter twin-turbocharged V8
617 horsepower @ 6,000 rpm
553 lb-ft of torque @ 1,800-5,860 rpm
EPA combined fuel economy: 17 mpg (15 city, 22 highway)
Alpina B8
4.4-liter twin-turbocharged V8
612 horsepower @ 5,500-6,500 rpm
590 lb-ft of torque @ 2,000-5,000 rpm
EPA combined fuel economy: 19 mpg (17 city, 24 highway)
More 8 Series fuel economy information is available on the EPA's website.
4-year/50,000-mile warranty
The new-vehicle warranty covering the 2024 8 Series (including the powertrains) lasts four years or 50,000 miles, whichever happens first. These terms are typical among European luxury automakers.
KBB's car review methodology.
This story originally ran on KBB.com.