Hurricane Idalia has moved back out over the Atlantic Ocean by now, but its path of destruction made for the costliest U.S. disaster so far this year.
One estimate, which looked just at insured losses, attributes costs of nearly $10 billion to Idalia. Another measure, which includes total economic loss and likely insurance claims linked to the Category 3 hurricane, says the bill could reach $20 billion. It's enough to position the storm as the most expensive of 2023, with some three months left in the Atlantic hurricane season.
For sure, Idalia's strongest punch came in a less-populated area of Florida than the state's destructive Hurricane Ian of 2022. But there will be costly clean up yet again for a hurricane-prone Florida that is experiencing more frequent rain-packed tropical storms that bring widespread inland flooding on top of potentially dangerous coastal winds and surging sea levels. Warmer oceans linked to climate change are a main factor as that higher-temperature water acts as "fuel" for such storms, weather and climate experts stress. This year's naturally occurring El Nino is also warming the waters.
"Evidence shows that climate change is impacting hurricane activity in the North Atlantic Ocean with a higher proportion of stronger (e.g., Category 3+), wetter hurricanes that have the potential to travel further inland before dissipating," said researchers at CoreLogic, a real estate and property insurance data firm, in their hurricane-season preview out in May.
"The combined effects of these factors could significantly impact U.S. properties in future years, including those structures that were once considered out of reach of hurricane wind and flooding," they said.
Idalia barreled ashore as a high-end Cat 3 hurricane near Keaton Beach, Fla., on Wednesday morning, packing maximum sustained winds of 125 mph. The hurricane unleashed a storm surge along much of Florida's Gulf Coast before blowing across northern Florida and into southern Georgia. By Thursday morning, the center of Idalia was hovering off the coast near the North Carolina-South Carolina border. Related tornado watches kicked in from Florida to the Carolinas. And when the storm surge peaked in Charleston, South Carolina, this week, it was the fifth-highest level on record for the city.
Risk analysts at financial services giant UBS put a preliminary price tag for Idalia's damages at around $9.36 billion, based on early estimates. UBS puts a 50% chance on losses of over $4.05 billion and a 10% likelihood of losses of $25.6 billion, based on Aug. 28 data. The wide range reflected potential changes in the storm's intensity and path.
At about $10 billion, Idalia would not make the top 10 costliest hurricanes to hit the United States historically.
Accuweather, which takes into consideration both storm damage and total economic loss, for instance from shuttered businesses or even workers unable to show up for a few days, at $18 billion to $20 billion.
The estimates for Idalia add to 15 previous major "individual weather and climate disasters" recorded in the U.S. so far this year by the National Oceanic and Atmospheric Administration, or NOAA. For this list, the agency tracks storms whose damages and economic losses each top $1 billion.
In 2023 (as of August 8), there have been 15 confirmed weather/climate disaster events with losses exceeding $1 billion each to affect the United States, the NOAA site details. Overall, these events resulted in the deaths of 113 people and had significant economic effects on the areas impacted.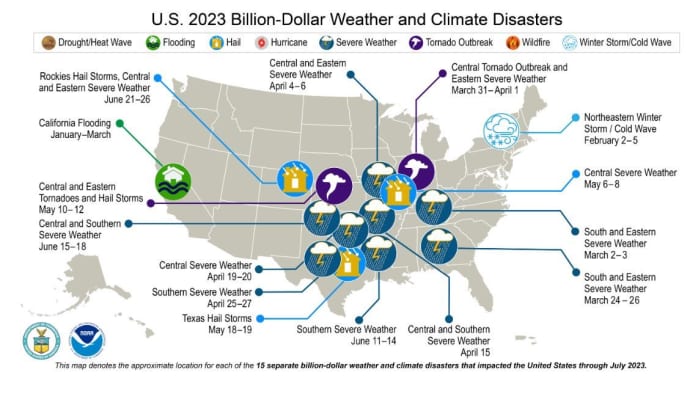 Read: Hilary drops torrential rain on Southern California as first tropical storm in 84 years
No doubt, this year is shaping up as a costly one, in keeping with a trend of additional disasters annually in more recent years. NOAA data shows that the 1980–2022 annual average was 8.1 events crossing the $1 billion threshold (adjusted for inflation). When just the past 5 years are singled out, the average is 18 events annually.
NOAA has said that through July, a month that went down as Earth's hottest on record, the total estimated cost of the damage caused by disasters was $39.7 billion. That figure does not include the rare tropical storm to come ashore in California in recent weeks, no an estimated $5.5 billion to rebuild the town of Lahaina following devastating wildfires on Hawaii's Maui earlier in August.
A total of 18 extreme weather and climate-linked disasters caused a total of $165 billion in U.S. damages in 2022, NOAA data shows. This was some $10 billion more than the previous year, and the third costliest year since records began in 1980.
Global property insurers are deep into a challenging 2023 as reinsurers hiked rates on key types of coverage by as much as 50% from July 1, blaming sharp losses from the Ukraine war and increasing wildfires and hurricanes in states such as California and Florida.
Read: State Farm cracks down on California wildfire insurance. What it means for all homeowners.
Beyond the impact of climate change intensifying natural disasters, inflation, government regulations and expensive lawsuits have also cut into insurers' profits in many parts of the country.
But there's no denying it. More frequent and far-reaching natural disasters mean more insurance companies have to pay out in claims and the more they have to pay for their own insurance policies, known as reinsurance. They pass along these costs to customers with higher premiums.
Related: 'It was so traumatic to see the destruction': More Americans are moving to flood-prone areas. Why do they defy the warnings?
Coastal inundation and surge levels from where Idalia moved inland rivaled those of Hurricane Ian in Fort Myers last year. However, the Big Bend area of the state that just lived through Idalia is far less populated than the area devastated by Ian, accounting for a vast difference in total damages. The population was approximately 1 million within 30 miles of Ian's landfall. In comparison, about 38,000 people live within that distance of Idalia's landfall.
To put Idalia's damage cost into context, Hurricane Ian caused a loss of $180 billion to $210 billion, according to AccuWeather. Hurricane Michael in 2018 devastated parts of the Florida Panhandle, again in a slightly more populated area than Idalia, with a total damage and economic loss of about $30 billion.
Florida Governor Ron DeSantis, a candidate for the Republican bid for president in 2024, notably rejected $350 million in federal funds meant to help tackle climate change in recent months, decrying its price tag.
DeSantis used a line-item veto in June to reject a $5 million federal grant to set up a rebate program for Floridians who retrofit their homes with energy efficient appliances. This in turn meant that Florida couldn't access the $341 million the Inflation Reduction Act allotted to fund the program.
Related: Climate winners and losers as the Inflation Reduction Act hits 1-year anniversary
His view largely echoes that of his rivals for the Republican presidential nomination, who want to slim down federal spending when it comes to abating climate change, although he is in a unique position as leader of a state whose vast coastlines put it on the front line in the climate-change fight.
Florida, which is the third most-populous U.S. state with just above 22 million people, will receive federal help for hurricane recovery, the Biden White House said this week.
Read: Hurricane Idalia: Biden promises 'anything the states need' and says climate crisis can't be denied
Idalia did compare with other recent storms in another, significant way. It strengthened as it neared the coastline not weakened from land-linked crosswinds as had historically been the tendency until recent years.
Global storms that are nearing the coastlines, to within 240 miles (400 kilometers) of landfall, are rapidly intensifying three times more now than they did 40 years ago, a study published this month found. They used to experience this at an average of five times a year and now are happening 15 times a year, according to a study published in Nature Communications.
Costly and deadly hurricanes Ian, Ida, Harvey and Michael all intensified just before they smacked the U.S. in the last five years.
"The trend is very clear. We were quite shocked when we saw this result," said study co-author Shuai Wang, a climatology professor at the University of Delaware.
The Associated Press contributed.